The mystery surrounding Svelling chisels started when I saw the photo below. I recognized the Wallins Scandia chisel decal on the right, but not the decal on the left. I asked around, but no one seemed to have seen it before. Just recently, I learned that it was a Svalling brand chisel, sold by Eric Svalling AB of Eskilstuna, Sweden.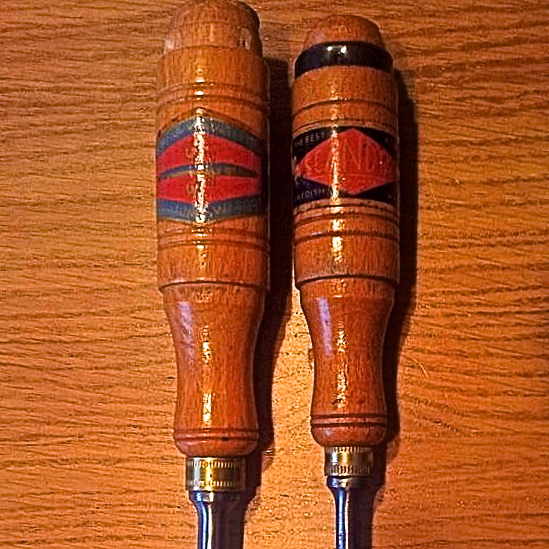 Here is a poor photo of a Svalling tang chisel. If you have better photos, I would really appreciate copies.

The handle is beech and the brass ferrule has coarse vertical knurling. The label has a sabre on it's side in the middle of the oval with the letter "S" lying on its side above the sabre and the letter "E" lying on its side below the sabre. Svalling made beautiful military sabres and were famous for them. The initials "E" and "S" stood for "Eric Svalling". I have not been able to make out any of the other text on the label. If you know what it says, please let me know.

This blade stamp on this chisel is right up there amongst the crudest that I've ever seen on a Swedish chisel. It says "AB.E.SVALLING" ESKILSTUNSA" "SWEDEN". The "AB" is short for  "Aktiebolag", Swedish for "limited company" or "corporation". The upright sabre with the "E" on the left side and the "S" on the right side is very poorly executed.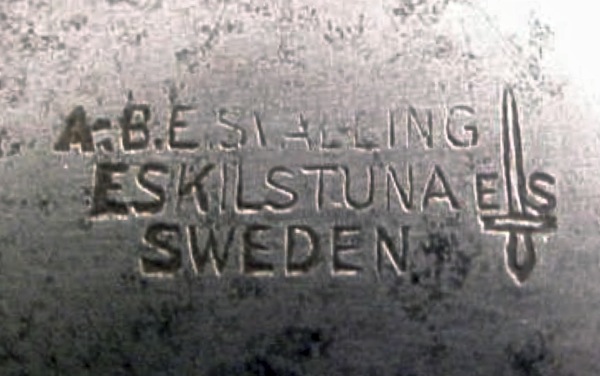 My research indicates that Svalling started manufacturing chisels around 1955, so it's likely that they manufactured these chisels themselves.
Svalling appears to be a good candidate as the manufacturer of other brands of chisels besides it own brand. This is only speculation on my part at the moment, but here is my thinking.:
Svelling had a large foundry and manufacturing facility capable of doing custom forging, grinding, and pressing.
They didn't start making chisels until around 1955, probably as an attempt at diversification since sword and sabre sales must have been sparse by them.
Svelling used transfer decals, beech handles, and brass ferrules with coarse vertical knurling on their own chisels. They must have had easy access to these items. We commonly see other brands of Eskilstuna chisels sporting beech handles that look like Svelling chisels. However, I haven't seen any evidence that Berg, Jernbolaget, or Eskilstuna steel ever made or used beech handles.
This idea, while unproven, is probably worth following up … assuming it is possible.
Here is a brief timetable for Eric Svalling AB.
1905 – The company was founded by Erik Svalling and located at Bruksgatan 17 in Eskilstuna, Sweden.
1911 – Svalling manufactured fencing weapons, swords, animal shears, and sheet metal shears.

1918 – Svalling  had 40 employees and was busy making sabres, and shears.

1955 – Fencing weapons and sabres appear to have been replaced by tailors shears, hand shears, garden tools, and chisels. Svelling now did custom forging, grinding, and pressing of steel. The number of employees had dropped to 7 people.
1964 – The number of employees was now 5 people.
I don't currently have any information on Svelling after 1964.