I enjoy using a bit brace for drilling whenever it makes sense and have gathered together a good selection for personal use. I find most of them at garage sales and typically get them for next to nothing. The one exception is the North Brothers (Yankee) braces. I have yet to find one of those on a garage sale table.
This article reflects my own personal experience and preferences. I hope that you find it helpful in finding braces you enjoy owning and using.
For actual use, I prefer Yankee and Millers Falls braces. I like some other makers as well — Stanley, Goodell Pratt, and Pexto — just not as much and not as many models.
I look for braces that have a partly or fully enclosed ratchet mechanism. (These are sometimes referred to a "boxed" or "half-boxed" ratchet mechanisms). They are often better quality than braces that have their ratchet mechanism exposed at the front (i.e. you can see the gears). They also tend to protect the ratchet mechanism from grit and grime. Still, don't write off one with an exposed ratchet if it is in good condition.
Next, I check that the brace's ratchet works left and right, plus holds firm in the fixed position. Then I check for damaged, missing or bent parts. If all these check out, it is probably a decent brace.
There are two other important things to consider on braces — the type of brace jaws and the brace sweep.
It's good to have at least one brace with "universal-style" jaws. These will hold regular auger bits, plus bits with plain round and tapered shanks. That's another reason I like the Yankee braces and the Millers Falls braces with the "Leland" jaws.
Below is a North Brothers Yankee chuck assembly, including the Yankee universal jaws (lower left corner).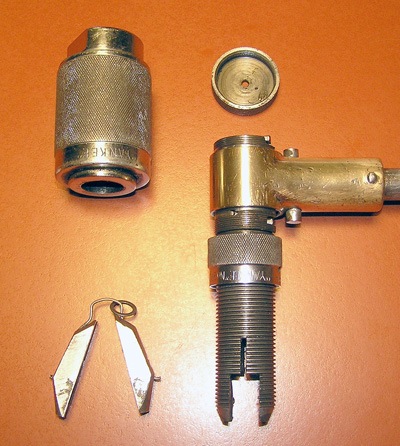 Here's a close-up of the Yankee universal jaws.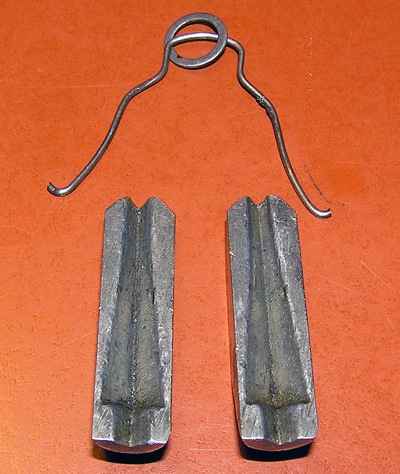 Below is a Millers Falls "Lion Chuck" assembly, including its Leland jaws.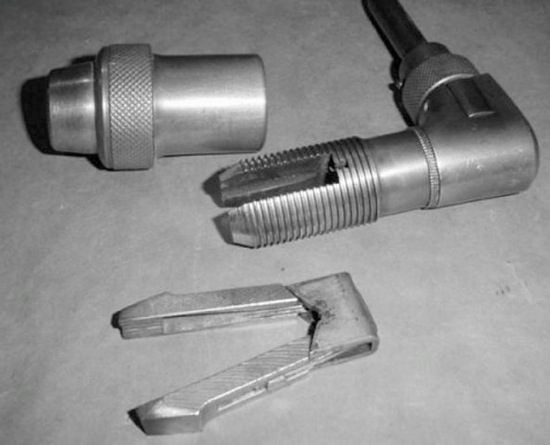 Below is a North Brothers Yankee brace with it's sturdy chuck and universal jaws and a Millers Falls brace with a "Lion" chuck and its "Leland" universal jaws.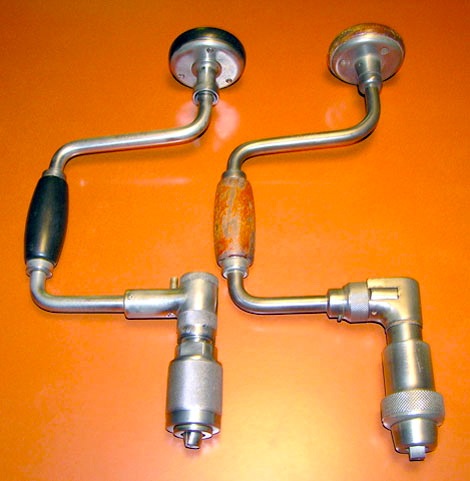 The two Millers Falls braces below on the left and the centre are the "Holdall" style brace with the Leland universal jaws. Note that the brace chuck on the "Holdall" has a thinner profile than the robust Yankee chuck and the Millers Falls "Lion Chuck". This can come in handy sometimes when working in tight quarters around the chuck area. The brace on the right is a nice little Stanley that I sometimes use in tight quarters.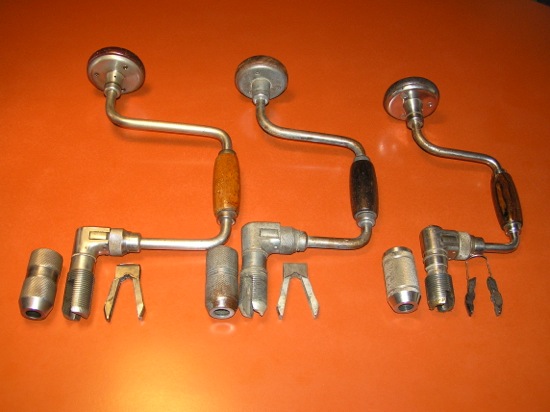 The brace sweep is the diameter of the circle that the handle makes when it goes through a full turn. It is usually expressed in inches and typically ranges from 8 to 14 inches. Smaller or larger sweeps are uncommon, but do exist. It's nice to have an 8, 10, 12, and 14 inch brace, but 10 and 12 inch ones are the most common sizes. Smaller ones are good for tight spaces and large ones are good for more torque.
Here are two Millers Falls braces. The left one has an 8″ sweep and the right one has a 12″ sweep.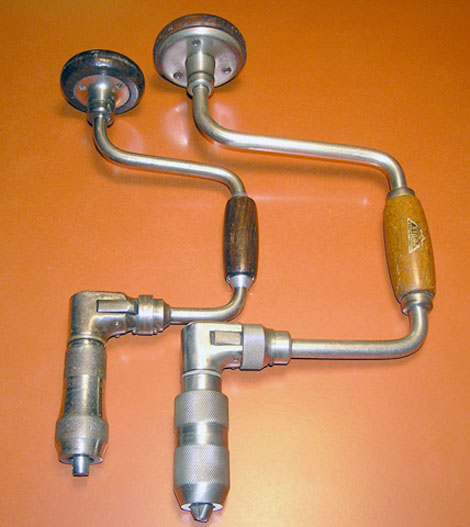 When looking for brace make and model numbers, you will often find it on the top part of the brace crank handle (under the top knob, but before the middle handle). You might also find information on the lower part of the crank or on the chuck and/or jaws housing.
My Favorite Braces
My favorite braces by far are North Brothers Yankee braces, including the 2100, 2100A, 2101, and 2101A series. Stanley and Bell Systems variants are good, too. Unfortunately for buyers, these Yankee braces are commanding very high prices these days.
My second favorite line of braces are the more affordable Millers Falls ones, including:
Millers Falls – Holdall brace with Leland Universal jaws.
Nos. 729 – 734; 729A – 734A
Millers Falls – Lion brace with Leland Universal jaws.
Nos. 769 – 774; 770A – 773A
Nos. 870 – 873; 870A – 873A
Nos. 1769 – 1773
Nos. 1870 – 1872
Millers Falls – Master Ratchet brace with Leland Universal jaws.
Nos. 830 – 833; 830A – 833A
Nos. 8130 – 8133
Miller Falls – Parsons Deluxe Ratchet brace with Leland Universal jaws (this line is expensive, but very nice)
No. 5010 – 5012; 5010A; 5010C
A close third for me are the Peck, Stow, and Wilcox (also P. S. & W and PEXTO) braces with the Sampson chuck and jaws. They are tremendously strong.