Alan Coates from New Zealand brought these "Suicide" brand chisels to my attention. He was also kind enough to provide all of the photos shown below.
Alan got these chisels from the son of their original owner as part of an estate cleanup. The original owner started off as a railway engineer in Wellington N.Z. and finished up working in the coal mines at Huntly, about 300 miles north.
What a strange choice for a brand name. I checked and "Suicide" does not have an alternate meaning in Swedish. I can only wonder how these came about, particularly since they were manufactured by Jernbolaget and carry the Jernbolaget label and logo.
All four of these tanged chisels have nice masur birch handles and Jernbolaget decals. The blued steel hoops on the bottom three chisels are held in place by small nails pounded in above the hoops. The top three chisels are square-sided, heavy firmer-style chisels. The bottom chisel is a typical bench-style chisel with beveled sides. None of the four chisels have anything stamped on the front of their blades.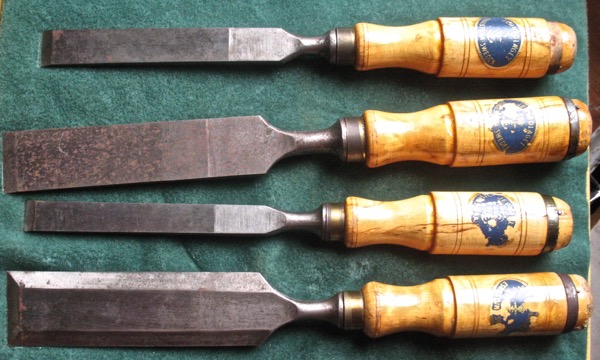 The oval labels are very attractive with embossed gold lettering, logos, and outlines and a blue background. The top of the label reads "JERNBOLAGET" and the bottom of the label reads "ESKILSTUNA . SWEDEN". The logo in the center is the crown, anchor, and "E" that Jernbolaget used consistently throughout its life as a company. This decal looks a bit different in construction from both the Jernbolaget paper and foil label and the Jernbolaget waterslide decal label. I plan to try and find out more about this type of label in the future.
All four chisels have the same thing stamped on the back of their blades — the text "SUICIDE" | "BRAND" | "SWEDEN" with the Jernbolaget crown, anchor, and "E" logo to the right of the text.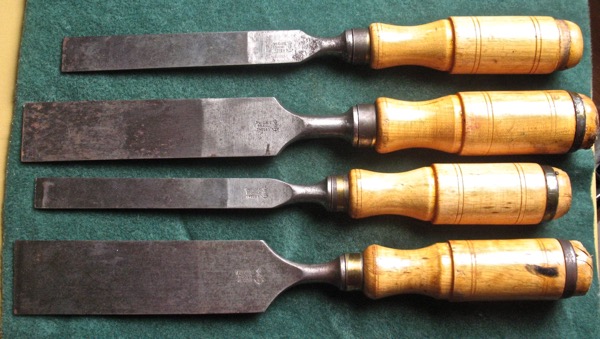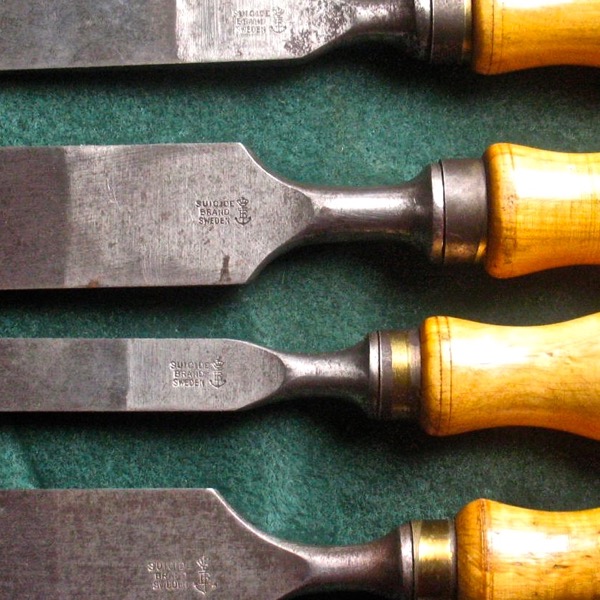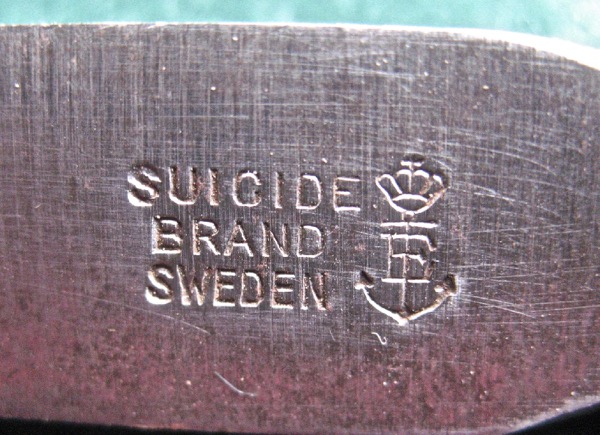 I'm curious to see if more "Suicide" brand chisels show up in the future.