This was an unusual find — a chisel made by Jernbolaget of Eskilstuna, Sweden for Baker & Hamilton (Stiletto) in the USA.
The Stiletto Tool Company started out as Baker & Hamilton during the California Gold rush in 1849, when they began selling tools to gold miners out of a tent at the gold camp near Sacramento. They eventually became a large Western agricultural implement dealer and tool distributor.
They developed the distinctive Stiletto trademark shown below and placed it prominently on their tools.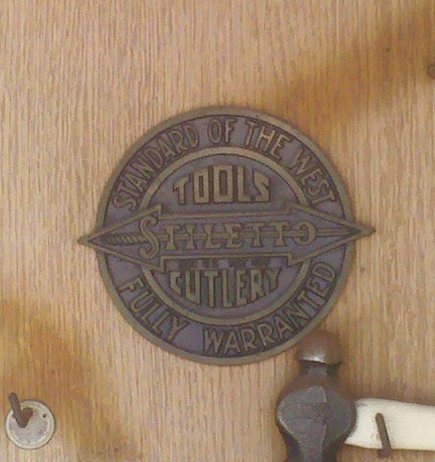 Through a series of changes and purchases Baker & Hamilton eventually became The Stiletto Tool Company which is currently located in Winton, California.
In 2007, Stiletto was bought by Milwaukee Electric Tools of Brookfield, Wisconsin.
Today, Stiletto's specializes in titanium striking tools, including their popular lightweight titanium hammers.
This Stiletto chisel has a highly figured masur birch handle.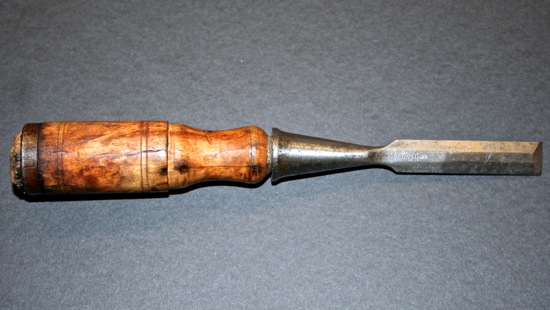 This is the imprint on the front of the blade — "SWEDEN", plus the trademark for Jernbolaget from Eskilstuna, Sweden.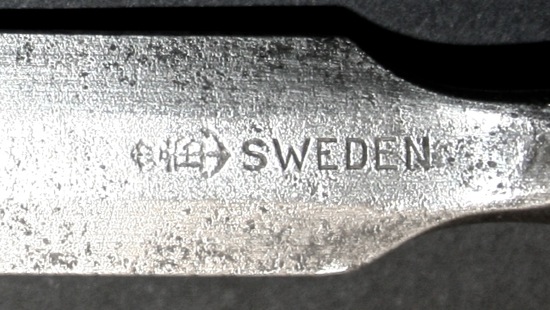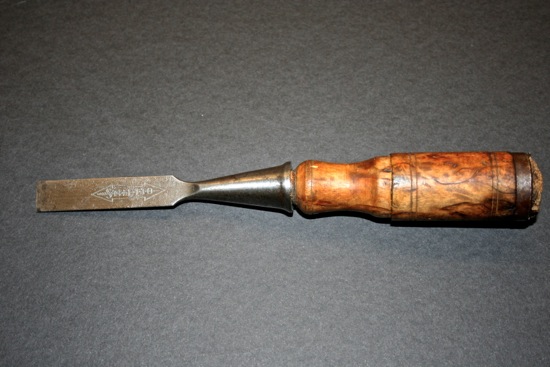 Here is the very distinctive "STILETTO" imprint and double arrow insignia stamped on the back of the chisel.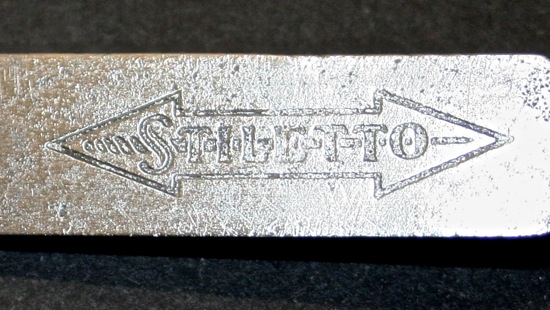 Here is some additional information on Baker and Hamilton/The Stiletto Tool Company.
1849 – Baker and Hamilton began selling tools to gold miners in a tent store near Sacramento, California
1851 – Baker and Hamilton opened their first permanent location in "Old Town" Sacramento.
1887 – Baker and Hamilton expanded their Sacramento store and warehouse to a full city block
1893 – Baker and Hamilton Company took over the farm implement business from Warren & Sons in Sacramento
1906 – Baker and Hamilton's brand new building was completely destroyed in the Big San Francisco Earthquake
1974 – Baker and Hamilton closed their doors permanently and all inventory was sold to California Hardware
1997 – Renegade Hammer Co. owner Mark Martinez acquires the Stiletto Trademark and production rights
1998 – Martinez invents worlds first solid Titanium framing hammer
1999 – First "Stiletto" branded Titanium hammer is manufactured and sold out of Atwater, Ca.
2007 – Stiletto is purchased by Milwaukee Electric Tools in Brookfield, WI