Dennis McCaigue snagged this set of Sandvik butt-style, beveled socket chisels for me a while ago. Thanks, Dennis. 🙂
I like Sandvik chisels in general and this set has the added attraction of having one chisel with a partial paper label. These labels are very hard to find, mainly because they are very fragile. Also, wood-handled Sandvik chisels from this era — most likely the 1940s — are not common compared to those from other major Swedish chisel manufacturers of that period. Back then, Sandvik was first and foremost a steel producer and manufacturer.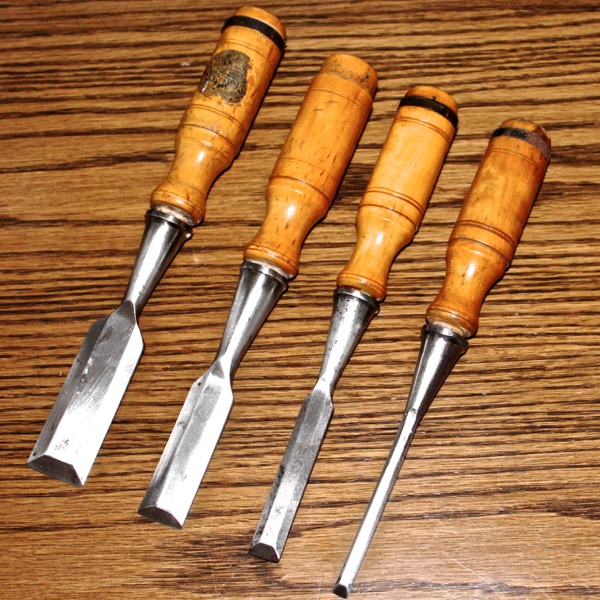 The chisel handles are all birch and nicely finished. A couple of the handles appear to be mildly figured masur (curly) birch. Three of the four chisels are topped off with robust blackened steel hoops.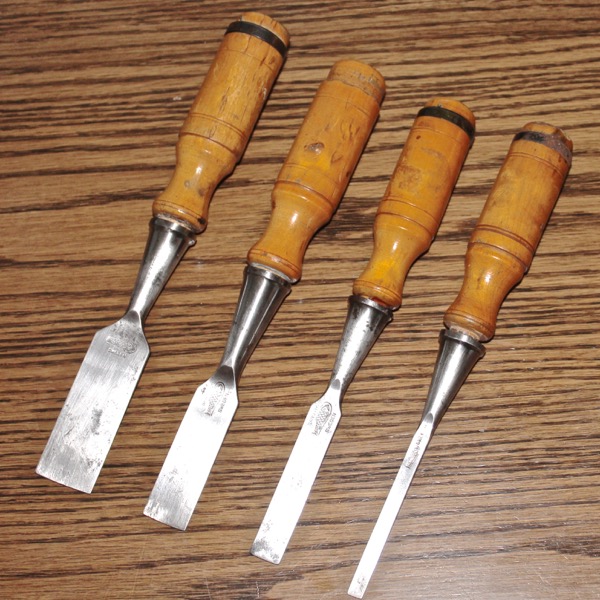 The lips of the sockets are thick and nicely squared off. The back of the chisels are all crisply stamped with the Sandvik hook and fish trademark and lettering. The widest three chisels are stamped with "SANDVIK" | <Fish and hook logo> | "SWEDEN".  The narrow chisel is just stamped <Fish and hook logo> | "SWEDEN".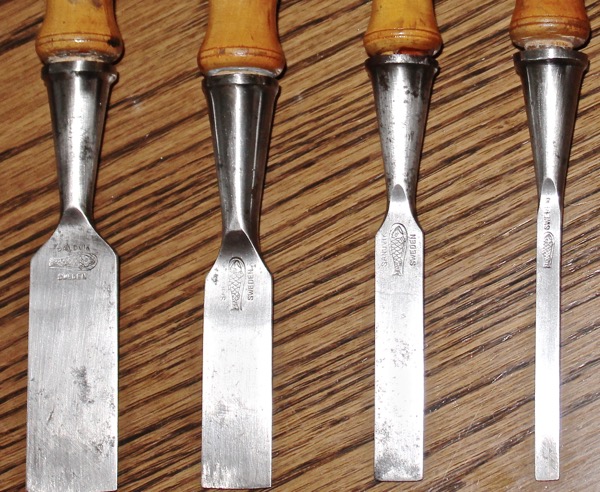 The thick steel hoops are held in place by small nails just above the hoop tops. If these nails had larger heads they would hold the hoops in place more securely. One hoop was missing and one was loose enough to keep falling off. Note the glue residue on the handle below. I imagine that the corresponding label did not stay attached very long.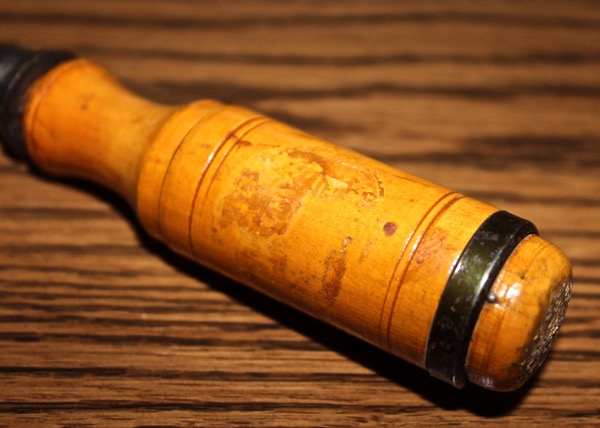 Here is a closer look at the paper label. It is very fragile and the bottom half is slowly lifting from the handle. I was not sure that I could glue it back on the handle without damaging the paper.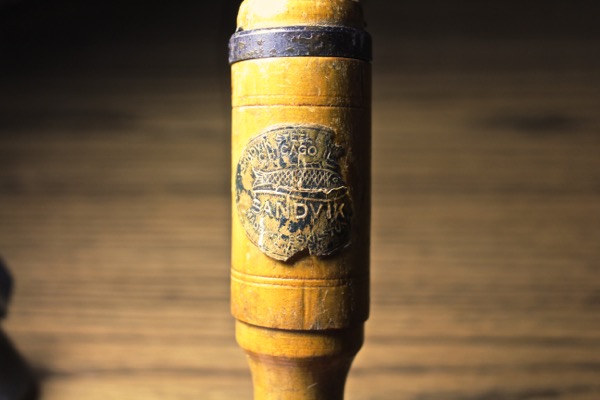 Here is a side view.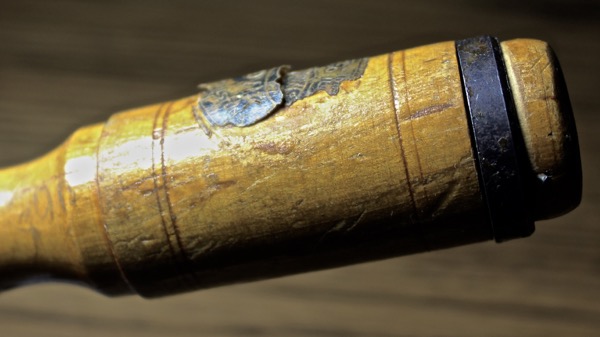 The glue job turned out not bad. I got decent contact and alignment. I used fish glue, which is my favorite for gluing and repairing paper and paper/foil labels.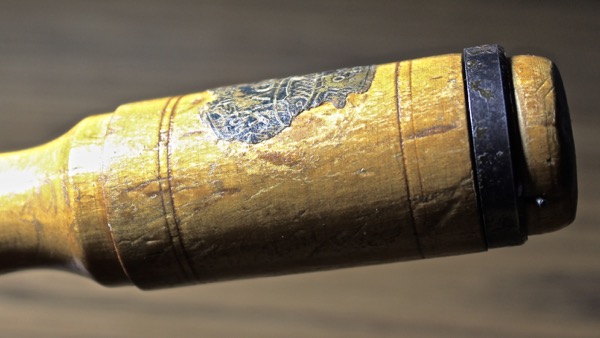 Here is a closer look at label after gluing. The label is an embossed paper circle with with what appears to be a dark green enamel paint background. I'm not sure if the embossed ridges of the lettering were originally gold, but that seems like a good possibility. The label reads "SANDVIK STEEL & ?" | "CHICAGO IL?" | <Fish and hook logo> | "SANDVIK" | "MADE IN ESKILSTUNA" | "SWEDEN". This label suggests that this set of chisels was made for export to the U.S.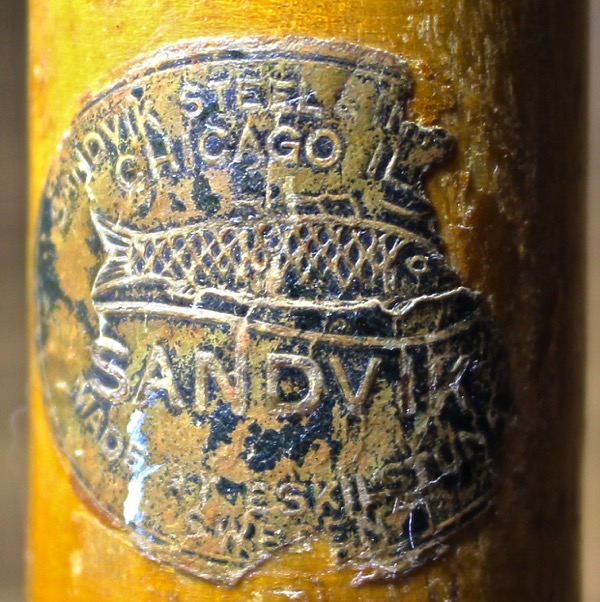 The partial label shown below is the only other similar Sandvik label that I've seen. (The photo was provided by Randall Nelson.) Note that the label reads "SANDVIK SAW & TOOL" instead "SANDVIK STEEL & ?", plus "NEW YORK" instead of "CHICAGO". Also note that the embossed outlines on the label are gold colored.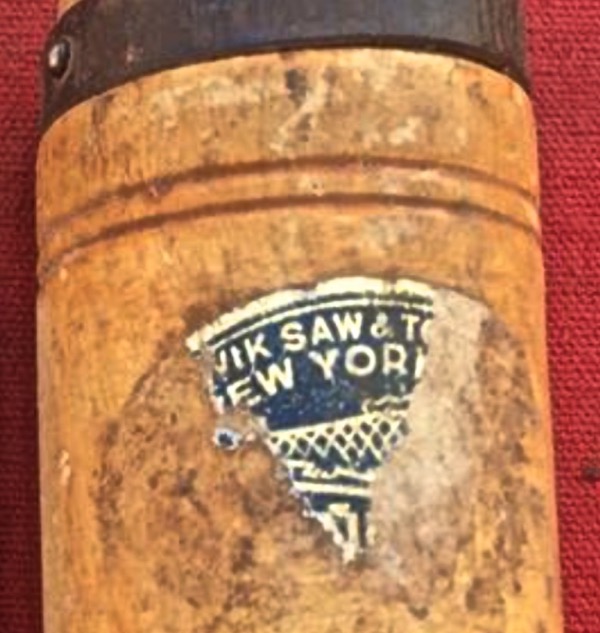 I would like to see more of these labels and chisels to help identify variations and date ranges. If you have any photos, I would be grateful if you would share them.
If you are interested in seeing more information on gluing paper labels with fish glue, please click here.