This little 1/4″ chisel represents a milestone of sorts.
As the handle label indicates, it's a GENSCO brand chisel, typically associated with the Eskistunasteel manufacturing facility in Torshälla, Sweden.  Odd … the blade has the Jernbolaget "crown, anchor, and E" on it. And there is also a "1030" stamped on it, which is part of the E.A. Berg chisel numbering convention. (1030 was the number Berg used to identify butt firmer chisels with beveled sides.)
Revised Mar-17-2015 – I recently received some new information that explains the "1030" stamped on the chisel blade. Although Berg used the number "1030" to identify their butt firmer chisels with beveled sides, so did Jernbolaget. This was confirmed in a 1927 Jernbolaget catalog that I recently had a chance to examine.
Quite a mish-mash and a bit puzzling at first.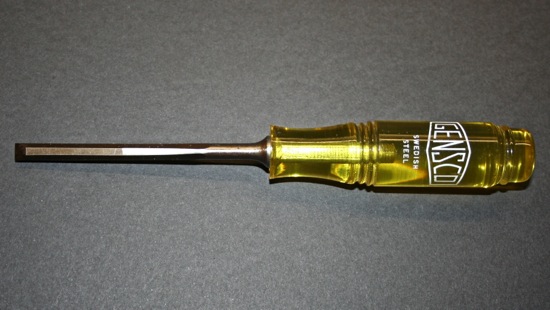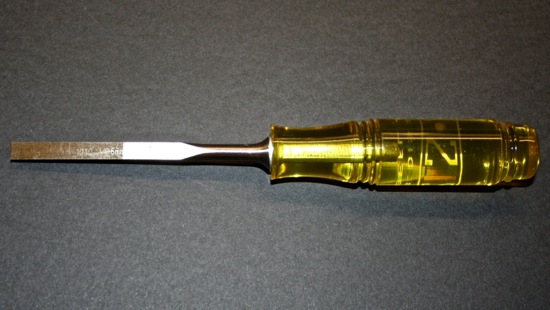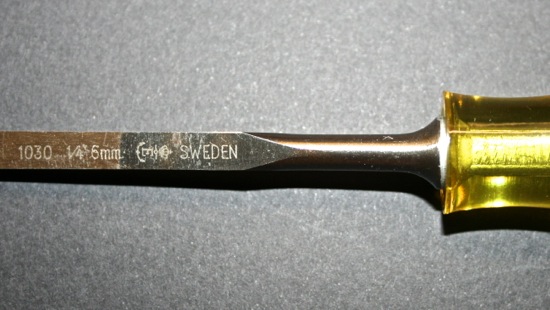 The final clue shows up on the box the chisel came in. You can see the mauufacturer's name above the GENSCO brand name. It's "A.B. BAHCO".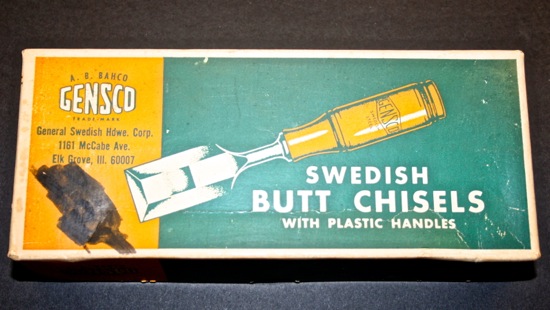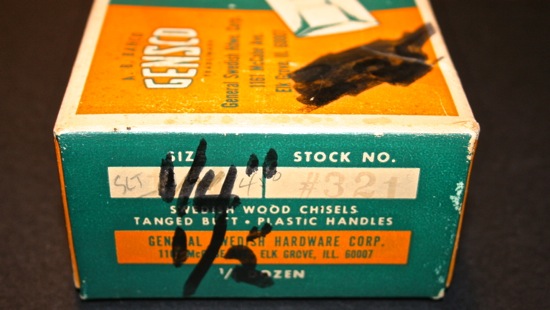 Revised Mar-28, 2015 – These chisels were made for export to the U.S. for Bahco's GENSCO distributor, General Swedish Hardware Corp of Elk Grove, Illinois. Prior to the Bacho buyout, the U.S. Distributor for Gensco chisels was the General Steel Warehouse Company Inc., Gensco Tool Division located in Chicago,  Illinois.
Four of the original half dozen 1/4″ chisels remain.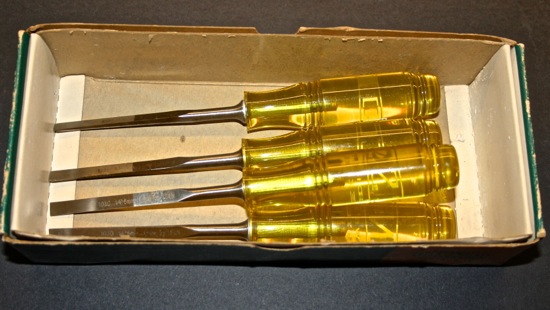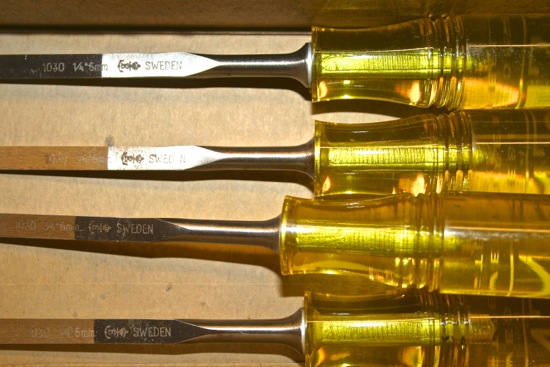 This all makes sense now, although it does indicate a bit of an identity crisis. Bahco bought up E.A. Berg in 1959. It also acquired Eskilstunasteel (the manufacturer of Gensco chisels) at around the same time. Then, in 1960, E.A. Berg (now owned by Bahco) bought up and merged with Jernbolaget. In a sense, these chisels commemorate the union of these three chisel (and edge tool) makers under Bahco. These are the only four chisels with this mix of labels and blade markings that I've seen so far.
I'm surprised at the condition of these chisels. They look brand new. They must have been manufactured in the early 1960s while Bahco was still struggling with branding identity issues for it's new acquisitions. That would make them around 50 years old.
I believe the yellow plastic handles are made of cellulose acetate or cellulose acetate butyrate — both of which are made from wood pulp. Both have been used to make chisel handles from around 1929 up to the present day.