These chisels were made by F. E. Lindström AB of Eskilstuna, Sweden. This business was founded by F.E. Lindström in 1856, making it one of Eskilstuna's earlier hand tool manufacturers.
Lindström specialized in the production of pliers and wire cutters from the start, so examples of Lindström chisels are fairly hard to find.
This set of two Lindström square-sided firmer-style chisels is quite old. I believe that they were made in the mid-to-late 1800's based on their design and the what I know about Lindström's history. The handles are birch and craftsman-made. This is my favorite shape of chisel handle and I'm always amazed at the pounding that this style of handle can take.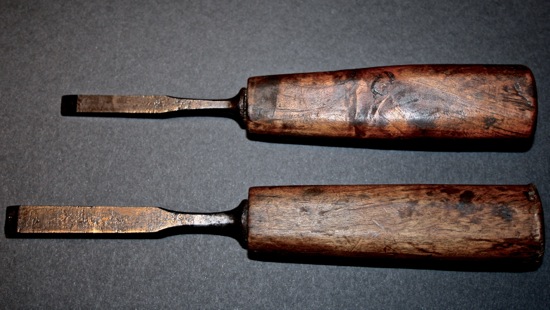 The handmade characteristics of the handles are more obvious on this side. So are the signs of general use. Both chisel blades have Lindström stamps on them.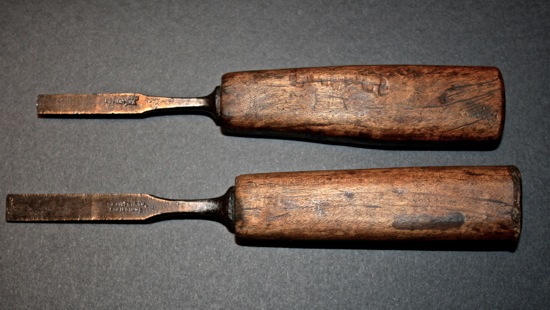 The stamp on the blade of this chisel (the bottom one in the photo above) reads "F E. LINDSTRÖM" on the top line and "ESKILSTUNA" on the bottom line. The two dots above the "Ö" are indistinct and crooked.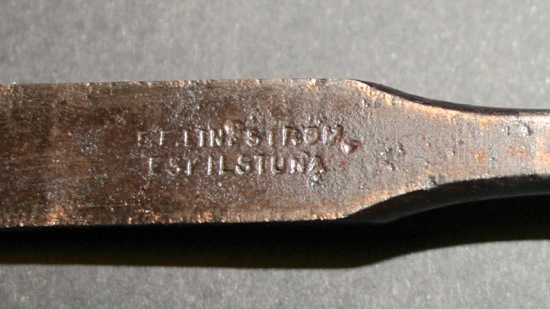 The stamp on this blade shows just a partial imprint of "F E. LINDSTRÖM" due to poor application. "ESKILSTUNA" is very clear, however.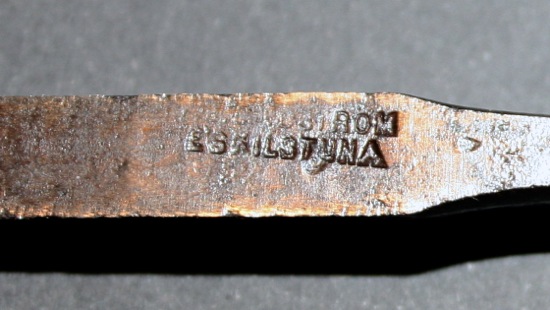 This is a later Lindström chisel. I believe that  it was made in in the 1920s or 1930s. Lindström is reported to have stopped making chisels completely by 1940 when it started focusing entirely on making good quality pliers and wire cutters.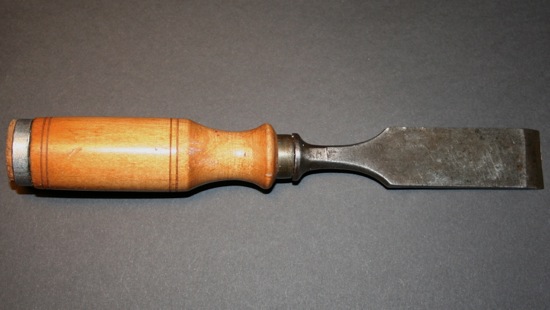 The handle is sturdy and quite nice-looking. I'm don't know whether it was made by Lindström or not. The bolster of the chisel blade is wider than the bottom of the chisel handle and ferrule, making me suspect that the handle came from another source … and perhaps at another time. It was very common back then to buy unhandled chisels and then use whatever was handy.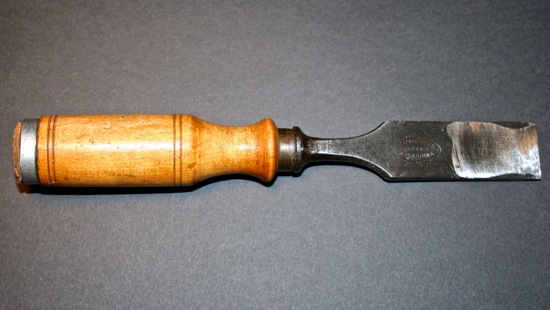 It looks like the Lindström blade stamp had evolved when this chisel was made. All of the wording is enclosed within two ovals. At the top is "F. E. LINDSTRÖM". In the middle is "GARANTI". And at the bottom is "ESKILSTUNA".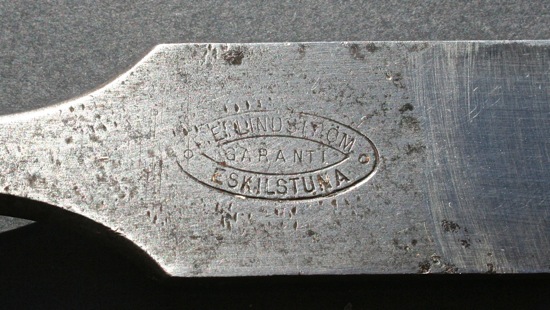 F. E. Lindström has been in business since 1856 and claims to be the oldest continuous producer of hand tools in existence today. Although they have manufactured a variety of things, including chisels, they they have long specialized in the precision wire cutters and pliers pioneered by F.E. Lindström when the company was originally founded. They are currently expanding their product line to include screwdrivers, tweezers, torque drivers, and related precision tools.
F. E. Lindström was acquired by Bahco in 1974, making it one of Bahco's last acquisitions of Eskilstuna's edge tool and precision tool manufacturers. Today, F. E. Lindström operates under the name "Lindstrom Precision Tools". SNA Europe, the successor to Bahco AB and part of the Snap-on Incorporated family, owns the Lindström brand.
Below is a brief summary of F. E. Lindström highlights.
1856 – The company was founded by F. E. Lindström at Nygaten 17, Vildsvinet 13, in Eskilstuna, Sweden. The company was named F. E. Lindströms Tångfabrik (F.E. Lindströms Pliers Factory). Early production included wire cutters, pliers, tongs. and chisels.
1877 –  Production expanded to include many kinds of fine forceps, pliers, and wire cutters … as well as fruit buckets, coffee grinders, and miscellaneous forgings. At this point Lindström has 22 employees.
1930 – "F.E. Lindström AB" was incorporated and the name was shortened from "F.E. Lindströms Pliers Factory".
1940 – Lindström began to produce only pliers and wire cutters. They had grown to 80 employees by this time and a large part of their production was being exported.
1955 – Lindström had it's expanded its line of  pliers and wire cutters and now had 100 employees.
1964 – Lindström continued growing and now employed 130 people.
1974 – F.E. Lindström AB was bought by Bahco.
1991 – Sandvik acquired Bahco Tools, including F.E. Lindström AB, and added them to the Sandvik Saws and Tools area.
1999 – Sandvik sold it's Saws and Tools area, including Bahco and F.E. Lindström AB, to Snap-On Incorporated.