Alejandro Thamm from Argentina owns two interesting "La Perdiz" (Spanish for "The Partridge") chisels made by E.A. Berg. These chisels have been in Alejandro's family for many years. He is not certain if his father bought them, or if they came from his grandfather.  The photos below were all taken by Alejandro.
These are robust-looking tanged chisels. The top chisel is firmer-style with squared off blade sides. The bottom chisel is also firmer-style with modestly beveled blade sides. Both have stout, plain birch Berg No. 954 handles with sturdy steel steel hoops and ferrules. Berg only offered the No. 954 chisel handle between 1932 and 1936, so the handles (and likely the chisels) are close to 80 years old.

The La Perdiz brand appears to have been made for Argentina and perhaps other Spanish-speaking countries. (This is similar to what Edward Zinn did with Berg chisels in the U.S. in the 1920's.) These Berg chisels were likely imported by a South American reseller/distributor.  I don't have any details on this so far.  And I don't know if it was Berg or the reseller/distributor who actually applied the La Perdiz blade stamp.
The La Perdiz blade stamp is on the front of the chisel blade. It is a stylized partridge standing on the ground and enclosed by a circle.  To its right is the text "LA PERDIZ". The quality of this blade stamp is not very good and the "I" in "PERDIZ" is indistinct.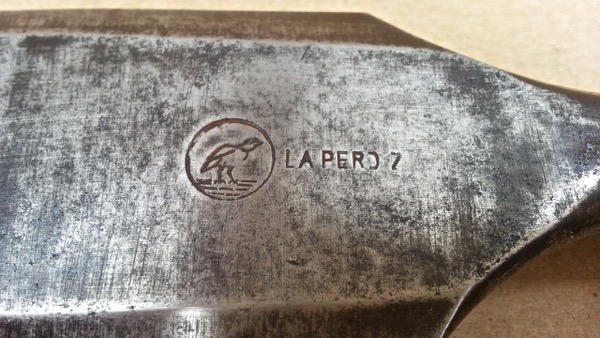 The Berg stamp on the back of the chisel blade is crisp and clear. The text reads "E.A. BERG" | "ESKILSTUNA" | "SWEDEN". There is no accompanying Berg "Shark" imprinted on the blade, which is quite significant. Berg was usually very insistent on having its name and its "Shark" logo on all re-branded Berg items. Even the Edward Zinn chisels had the Berg "Shark" imprinted on their blades, along with the Zinn name and logo (an elephant).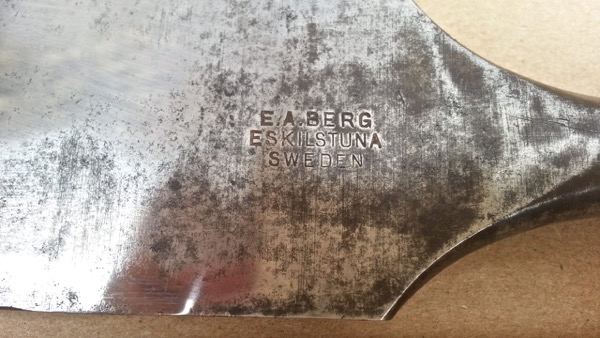 Other examples of these chisels show mediocre-quality La Perdiz blade stamps on the front of the blade, plus Berg stamps without the "Shark" on the back.