Randall Nelson, Dennis M, and Mike Turnidge recently brought the Hercules brand of Swedish chisels my attention. Many thanks, guys. Randall and Mike recently acquired nice examples of these chisels as well.
Randall Nelson sent me some photos of his chisel. This is a typical Swedish socket chisel with beveled sides. The handle is beech and the pierced steel hoop on top has a small nail through it. The socket on the top of the chisel blade has a squared-off lip.

The first thing I noticed about the waterslide-style decal on the handle was that it was upside-down. At first I thought this was a mistake, but then I noticed that the blade stamp had the same upside-down orientation.
The decal is shaped like a shield with a deep green background and a gold foreground. It reads "HERCULES" at the top and "MADE IN SWEDEN" at the bottom. The middle of the chisel is taken up by a rather odd-looking "Hercules" figure, bounded on each side by short horizontal lines. The figure is holding what appears to be a sword over his head and resembles the figure on the blade stamp.

The front of the chisel blade has no markings on it.

The back of the chisel blade is stamped with the shield-shaped Hercules logo shown below.  It is upside down, like the handle decal, and has "HERCULES" on the top and "ESKILSTUNA" | "SWEDEN" on the bottom. The Hercules figure appears to have a weapon in both hands, with the one in his right hand raised over his head.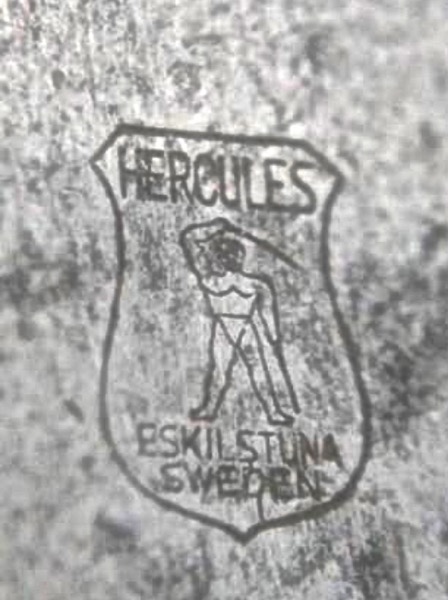 Below are a couple of photos provided by Mike Turnidge that confirms the upside-down orientation of the Hercules blade stamps.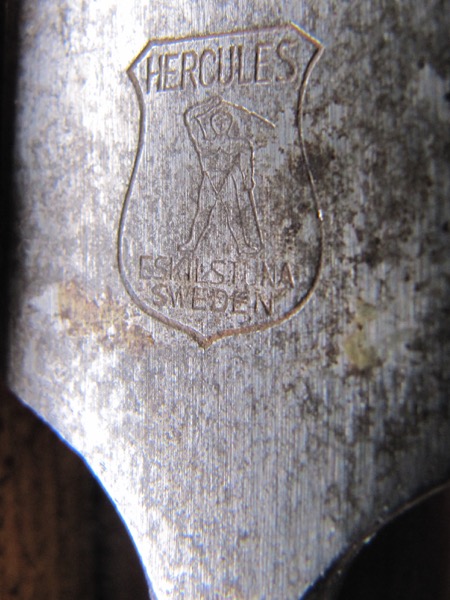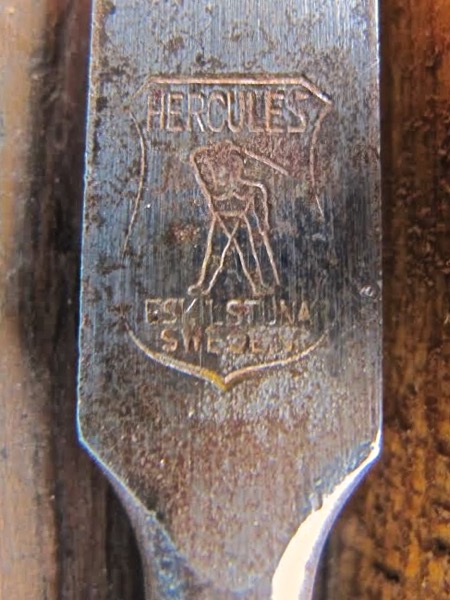 I have to say that I really like the eccentric decal and blade stamp design and positioning on these Hercules chisels.