This post reflects research done by Randall Nelson and myself. Both of us had seen illustrations of Berg labels with scrolls directly above the shark image. And we speculated whether this label actually existed since we had never seen a real-life example. This changed recently when Randall spotted one and brought it to my attention.
The first time I saw an illustration of a Berg label with scrolls was on a 1939 sales poster by a Canadian company — Caverhill, Learmont, & Co. Ltd.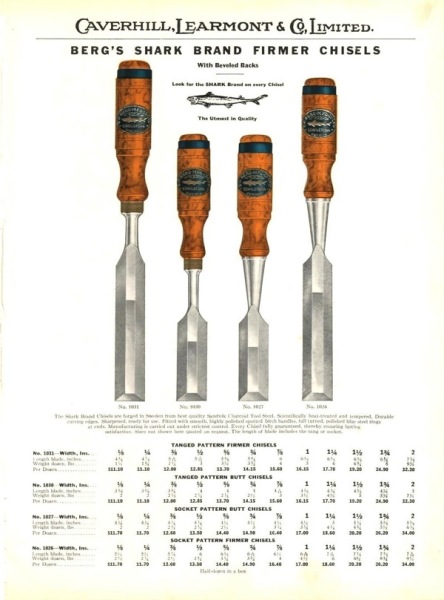 Note the small ornate scrolls above the Shark image on the labels below. Also, the image of the shark on the poster and on the chisel labels is not the one we typically associate with the more modern Berg trademark.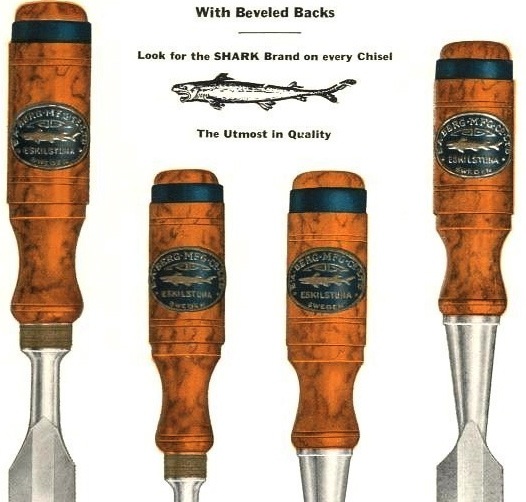 Some time after seeing this poster, Randall and I both came across Berg's U.S. trademark information. The trademark was approved in the U.S. in 1929, 10 years earlier than the date of the poster above. Again we see the small scrolls above the shark on the label, plus a similar version of an earlier Berg "Shark".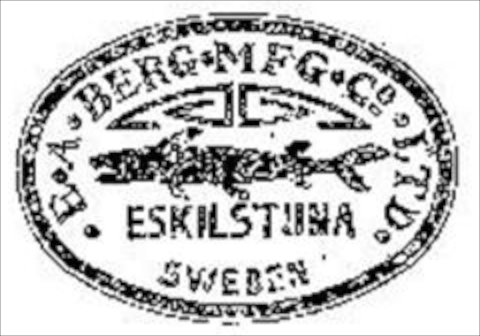 Finally, after wondering about the actual existence of a Berg label with scrolls, Randall spotted one.

Here's a closeup of the label and handle. The first thing that jumped out at me was that the label was made of paper and foil, rather than being the transfer decal we typically see on the more modern Bergs. Although we can't see all of the shark on the label, it looks similar to the one on the 1939 sales poster and the 1929 trademark shown previously. I also noticed that the steel hoop is pinned in place with little brads above the hoop (rather than through it) and that the knurling on the brass ferrule is fine and vertical, rather than fine and angled as is typically seen on Berg chisels.

One final comment for now. This chisel was spotted in the U.S., the trademark application and image with the scrolls was for the U.S., and the poster was from Canada. So, it's possible that this Berg label may have been more common in North America than elsewhere. In any event, it certainly appears to be scarce.